March 11, 2020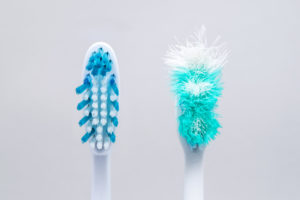 When was the last time you took a close look at your toothbrush? Even though we use it every day, most of us don't realize when our toothbrush has lost its effectiveness. However, if the bristles are frayed, flattened, or discolored, it may be doing your teeth more harm than good. Your local Naples dentist explains how to tell when it's time for a new brush, and what can happen if you keep using your old one.
Why Do I Need to Replace My Toothbrush?
You can't keep your smile clean with a dirty toothbrush. Not only are worn-out toothbrush bristles unpleasant to look at, but they can be bad for your oral health as well. Recent research has found that frayed toothbrushes can lead to:
Bad breath: Brushing your teeth twice a day with an old toothbrush may actually leave your breath worse than before. That's because skewed toothbrush bristles trap previously removed plaque, bacteria, and bits of food, then redeposit some of these stinky particles the next time you brush.
Oral infections: If a worn-out bristle detaches from the brush as you use it, it may become lodge between your teeth. This irritating sensation can eventually damage your gums and cause an oral infection.
Tooth decay and gum disease: Even though routine toothbrushing is the best way to prevent oral health issues, you may be at a higher risk of developing them if you use an ineffective toothbrush. Recent studies show that old toothbrushes leave behind a considerable amount of plaque and bacteria, rendering them far less effective than they should be.
When is it Time to Get a New Toothbrush?
Your toothbrush may not have an expiration date, but the American Dental Association and various toothbrush manufacturers say that there are a few tell-tale signs that your toothbrush needs to be replaced, like:
You've been using it for more than three or four months.
The bristles are flattened, frayed, or discolored.
You've just recovered from a sickness like a cold or the flu.
While this may seem to be too short of a lifespan for your toothbrush, especially if you brush your teeth too hard, numerous studies back these findings up. Since regular and thorough toothbrushing is your number one defense against most oral health issues, it's important that you have the right tools for the job! Replacing your ineffective toothbrush is an investment in your smile that may save you unnecessary damage and discomfort later.
About the Practice
At Island Coast Dentistry in Naples, FL, we believe that preventive dentistry is the key to stopping cavities, gum disease, and other oral health issues before they have a chance to begin. To slow the spread of the COVID-19 pandemic and encourage social distancing, we have made the difficult decision to postpone all non-emergency dental care. However, we are still here to encourage you to practice excellent oral hygiene at home and accept any true dental emergencies. If you have any questions or concerns, please don't hesitate to contact us via our website or at (239) 261-5566.
Comments Off

on How Old is Your Toothbrush? It May Be Time to Replace It
No Comments
No comments yet.
RSS feed for comments on this post.
Sorry, the comment form is closed at this time.