September 14, 2020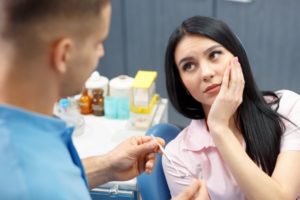 When COVID-19 was declared a pandemic, nonessential businesses like restaurants and bookstores shut down. Everyone who could work from home, did. Ever since then, dentists all over the country have seen a dramatic increase in the number of patients with dental emergencies, such as cracked teeth, sensitivity, migraines, and jaw pain. Keep reading to learn the reason behind this uptick in oral health issues, and how you can protect your smile from damage.
Why More People Are Having Dental Problems These Days
Stress is an obvious reason for the higher number of tooth fractures. From "doomscrolling" through social media and news apps to the newfound fear of coming too close to another person in public, many people are more anxious than ever before. All of this heightened anxiety contributes to bruxism, a condition where you grind and clench your teeth, often while sleeping. Left untreated, bruxism can lead to worn-down or cracked teeth.
Posture may also play a role. With so many people suddenly working from home, many of them have assembled a makeshift workstation. The awkward body positions that can occur from sitting on the couch or at a barstool for too long can result in hunched spines and curved shoulders. Nerves in your shoulder and neck muscles lead to your temporomandibular joint (TMJ), which connects your jaw to your skull. Poor posture places stress on this joint and contributes to teeth grinding.
Lastly, a lot of people are suffering from sleep problems like restlessness and insomnia due to prolonged anxiety. Not getting the restorative sleep you need can increase your risk of bruxism.
How You Can Keep Your Teeth Safe During Quarantine
People with bruxism often don't even know that they clench and grind. Awareness is crucial. Ask yourself this: are your teeth touching right now? If so, your teeth may already be damaged. Your teeth shouldn't touch unless you're actively biting and chewing.
Setting up a proper workstation is also important. Ideally, your computer screen should be at eye level. If your chair or desk isn't adjustable, try propping your computer on a box or stack of books. Additionally, take a break to stretch your muscles at least once every hour.
Meditation, deep breathing, or taking a warm bath before bed can calm your nerves and reduce your risk of grinding while sleeping. It also helps to ask your dentist about a custom-made nightguard. This comfortable plastic tray fits over your teeth and provides cushioning that protects against the trauma of grinding.
Even though your teeth are strong, they can only take so much damage before breaking. Tiny cracks could lead to larger fractures that require major procedures like a dental crown or root canal. To keep your smile intact, follow the tips in this post. And don't forget to see your dentist for a routine checkup and cleaning!
About the Author
Dr. Jeffrey Skupny obtained his Doctor of Dental Medicine degree from the prestigious University of Florida College of Dentistry. Since then, he has joined several professional organizations and even became a Diplomate in the International Congress of Oral Implantologists. His practice sees patients with emergencies such as cracked teeth as soon as possible. If you're in pain, get fast treatment by contacting Island Coast Dentistry at 239-261-5566.
Comments Off

on Why Do So Many People Have Cracked Teeth During the COVID-19 Pandemic?
No Comments
No comments yet.
RSS feed for comments on this post.
Sorry, the comment form is closed at this time.