December 3, 2020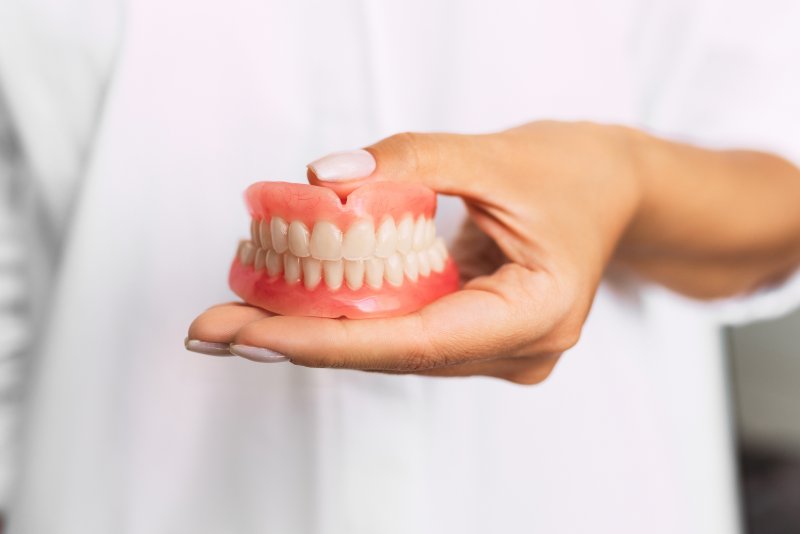 Are you missing teeth? You certainly aren't alone! Approximately 178 million Americans are missing at least one tooth while 40 million are missing all of their teeth. Many of these people seek tooth replacement options but the question ultimately is: dentures or dental implants? While they both have their advantages, only one provides jawbone preservation as a benefit. Continue reading to learn more about bone loss and how to prevent it.
Why Does Bone Loss Occur?
Whenever you chew and bite on your food throughout the day, you are stimulating your jawbone. Because of this, it stays strong and supports a healthy smile. However, when a tooth is missing, your jawbone is not being stimulated to the same extent, and your body begins to slowly reabsorb it. In the end, you could eventually end up with physical signs like sunken cheeks and wrinkled lips that will make you look older than you actually are.
Do Dentures Prevent Jawbone Deterioration?
Dentures are incredibly common for replacing missing teeth. They are lifechanging for people who are without most of or all of their teeth. Dentures are held in by natural suction and can restore the appearance of the smile. However, one thing it does not do is prevent bone loss. This is because dentures sit on top of the gums which does not stimulate the jaw like natural teeth.
What Are the Benefits of Dental Implants?
Dental implants are small titanium posts that are inserted directly into the jawbone in order to replace the natural root of the tooth. This will fuse to the jawbone in a process called osseointegration. A customized crown is placed on the end on the implant. Here are a few benefits of this method:
Stability: Implant provide up to 90% of your natural chewing power, so there is no need to cut out any of your favorite foods once they have completely healed.
Long-lasting: Dentures have to be repaired and replaced periodically as your mouth changes. Dental implants can last upwards of 25 years and even the rest of your life if your care for them properly.
Prevents bone loss: Because dental implants replace the roots of the teeth, they are able to stimulate the jawbone in the same way that a natural tooth does. For this reason, implants prevent the bone from being reabsorbed over time.
Dentures are great, but they do not offer the same benefits as dental implants. If you're looking for a tooth replacement option with long-lasting results, ask your dentist if you'd make a good candidate for dental implants. You'll have your smile back in no time!
About the Author
Dr. Jeffrey Skupny earned his Doctorate of Dental Medicine from the prestigious University of Florida College of Dentistry and has been working in the field for over a decade. He is a member of the Academy of General Dentistry, International Team for Implantology, and American Academy of Cosmetic Dentistry. For more information on dental implants or to schedule a consultation, visit his website or call (239) 261-5566.
Comments Off

on Can Dentures Prevent Bone Loss?
No Comments
No comments yet.
RSS feed for comments on this post.
Sorry, the comment form is closed at this time.