Cosmetic Dentist – Naples, FL
Make Your Dream Smile
a Reality
A beautiful, confident smile can do wonderful things for a person both inside and out, but the opposite is also true for someone dealing with noticeable stains, chips, cracks, or gaps in their teeth. At Island Coast Dentistry, we believe that absolutely everyone deserves to have a smile they can be proud of, which is why Dr. Skupny offers a number of cosmetic dental services capable of making any flaw disappear. You've spent your entire life taking care of others; now is the time to give yourself a little attention! In just a few appointments, we can give you that dream smile you have always wanted. To get started, contact us today to explore your options for cosmetic dentistry in Naples, FL.
Why Choose Island Coast Dentistry for Cosmetic Dentistry?
Relaxed, Low-Pressure Environment
Custom-Made Solutions for Big Results
Only Use the Most Advanced Materials
Veneers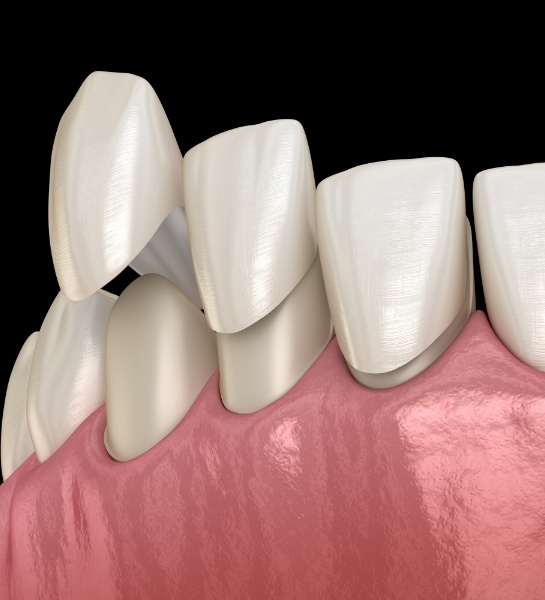 For people dealing with multiple smile imperfections, veneers are by far the best way to address all of them at once. With just one procedure, they can get rid of:
Permanent stains
Chips
Cracks
Gaps
Misshapen or undersized teeth
Slightly crooked teeth
Veneers are extremely thin ceramic coverings that are fitted directly onto the front of the teeth, and they are always custom-made. You can get just one or an entire set to completely transform your smile in just two appointments.
Learn More About Porcelain Veneers
Metal-Free Dental Restorations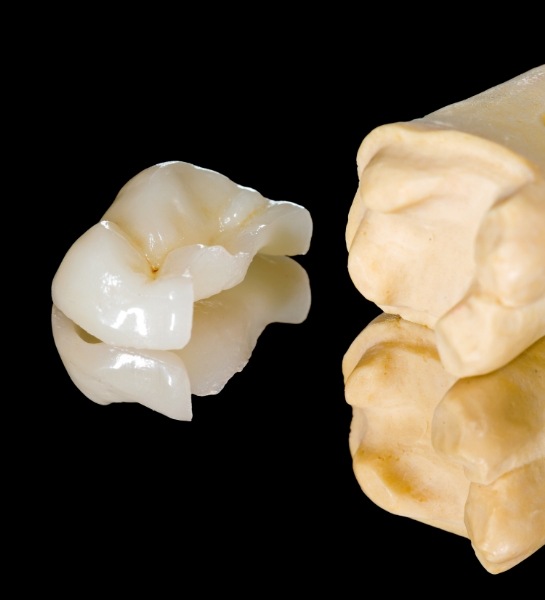 The latest dental materials enable Dr. Skupny to repair broken and decayed teeth in such a way that they look like nothing ever happened to them. Our 100% dental ceramic crowns, inlays, and onlays are strong, durable, and can perfectly mimic the appearance of real enamel in every way. Gone are the days where your only options are a silver or metal crown that would instantly stick out in your smile. Now, we can provide the kind of dental work that only you and your dentist will know about.
Cosmetic Dental Bonding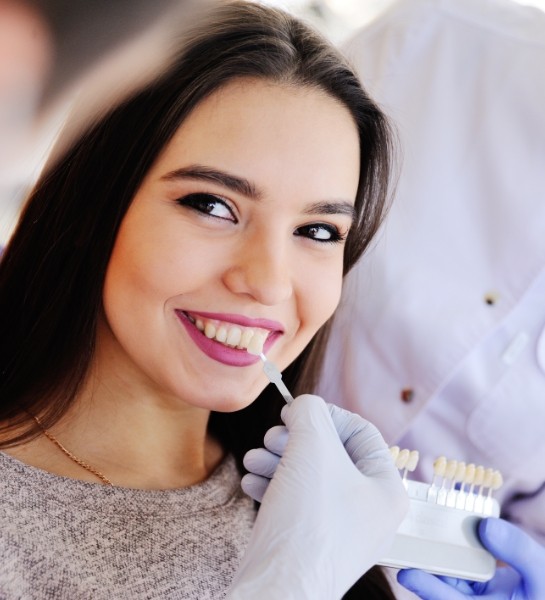 Want to take care of that minor stain, chip, or gap that has bothered you for years in just an hour? That's exactly what we can do with cosmetic bonding! Dr. Skupny will apply a tooth-colored composite resin to any damaged/missing enamel and use it to literally sculpt a tooth to perfection. After a nice polish, the resin will look like just another part of the natural tooth. The procedure itself is always quick, painless, and the results can be trusted to last.
Learn More About Cosmetic Bonding
Invisalign Clear Aligners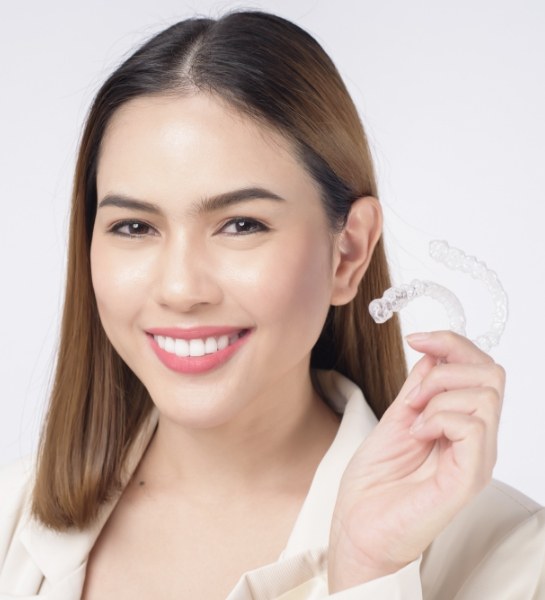 Many people with crooked, crowded, and gapped teeth have avoided straightening them because they just didn't want to get braces, but now, they can easily achieve the results they want without the mouthful of metal. Invisalign uses a series of clear plastic aligner trays to shift the teeth in the most discreet and comfortable way possible. And, whenever it's time to eat or brush, a patient can simply take them out at their convenience.
Teeth Whitening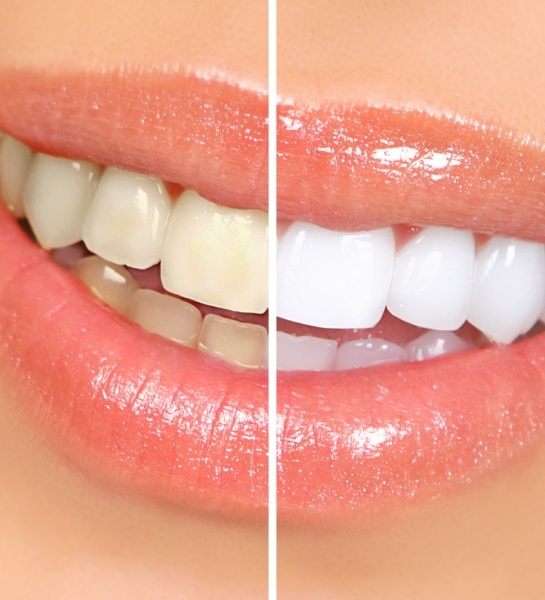 Years of coffee, wine, tobacco, and even natural aging can leave the teeth looking a bit dull and discolored, but our professional-strength whitening treatments can easily make the teeth shine again. Using either a quick in-office treatment that only takes an hour or a take-home kit designed just for you, we can reliably make your smile whiter with a single treatment. No matter which method you choose, the result will be the same: a pristinely white set of teeth!
Learn More About Teeth Whitening
Smile Makeovers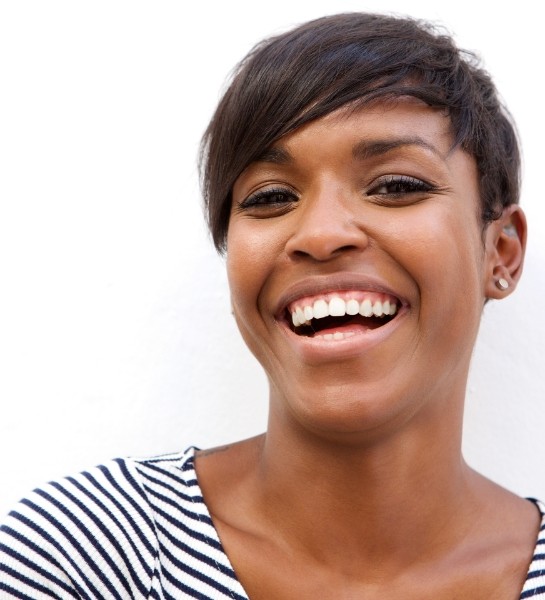 A smile makeover is a unique cosmetic dental treatment option that is more of a plan than an actual individual service. Our cosmetic dentist in Naples will choose multiple solutions to create a unique treatment plan that addresses your chips, stains, cracks, gaps, and discolored teeth. We know aesthetics matter, which is why you can count on us to provide results that will help you feel confident, look your best, and embrace new and exciting opportunities.
Learn More About Smile Makeovers
Understanding the Cost of Cosmetic Dentistry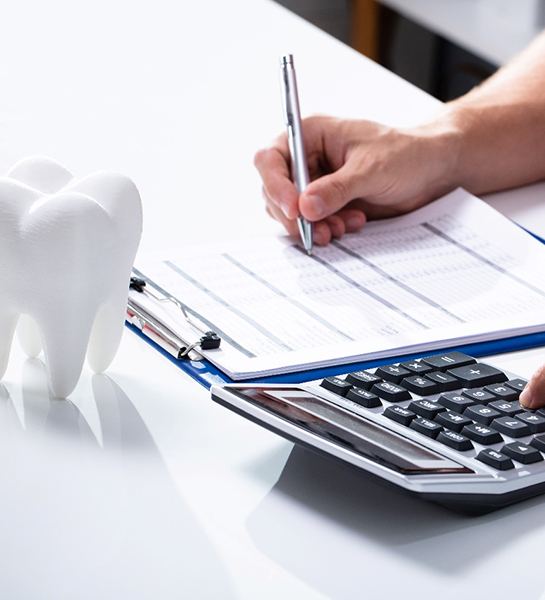 Some people are reluctant to commit to cosmetic dentistry because of cost concerns. While it is not covered by dental insurance in most cases, as your cosmetic dentist in Naples, we will gladly help you figure out your best course of action financially and which treatments make the most sense accordingly. Cosmetic dental services all have varying price points, so it's important to find the solution that best suits your grin as well as your wallet.
Which Cosmetic Dental Service Is Right for Me?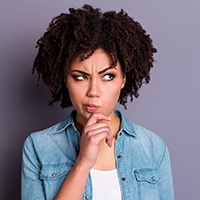 Prospective cosmetic dentistry patients are often trying to either whiten their teeth, straighten them, change their size/shape, or achieve some combination of the three. Once our cosmetic dentist examines your teeth, they can help you explore solutions that make sense for your goals, such as:
Teeth Whitening – A midrange option regarding the cost. Ideal to brighten your smile but cannot alter your tooth shape or position. The take-home whitening kits are less expensive but usually require two weeks to reach desired results. Meanwhile, the in-office option only takes an hour or less.
Veneers – A more costly option but capable of transforming your smile in multiple ways at once. Veneers can last for more than a decade with proper care. They save time in the long run and are more resistant to stains than your natural teeth.
Metal-Free Restorations – A lower-cost option that is shaded to closely match your natural enamel. They eliminate sensitivity to temperature changes and can last 15 years or more with proper care. A significant improvement over traditional silver or metal crowns.
Invisalign – A more costly option but ideal if you want to fix significant gaps or misalign teeth. Most people won't realize you are using it. The average treatment time for Invisalign is 12-18 months compared to 2-3 years for traditional braces. Removable and comfortable, plus it is convenient since checkups are only needed every 4-6 weeks.
Why Is Cosmetic Dentistry Worth the Investment?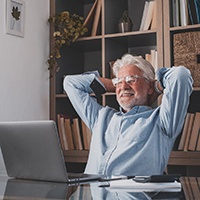 The cost of cosmetic dentistry in Naples can vary greatly depending on the treatment you select, but your investment will continue to pay dividends for many years to come. After all, it's tough to put a price on increased confidence that can lead to an improved quality of life. You can look younger with treatments like teeth whitening or veneers that brighten your smile. And don't discount improvements to your oral health when you select tooth-colored fillings or Invisalign. Imagine upgrading your relationships, social life, professional achievements, and health across the board!
How to Make Cosmetic Dentistry Affordable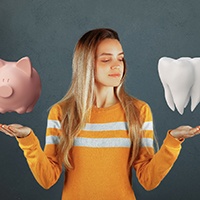 Purely aesthetic dental care is generally not covered by dental insurance, meaning you'll have to find an alternative way to pay for your treatment. Among services mentioned above, Invisalign may be an exception regarding coverage, so be sure to ask your dentist. Fortunately, we offer CareCredit financing to patients who wish to pursue elective cosmetic dentistry procedures.
Are you ready to make your dream smile a reality? Contact our office to learn more about these treatments and related pricing information during a cosmetic consultation. It's our mission to help you accomplish your goals while being mindful of your budget along the way.
Cosmetic Dentistry FAQs
As a proud member of the American Academy of Cosmetic Dentistry, Dr. Jeffrey Skupny can help you transform flawed teeth into a gorgeous set of pearly whites that you simply can't wait to show off. If you're ready to take the first step toward achieving your dream smile, all you have to do is reach out to our Island Coast Dentistry team to schedule your consultation. However, it's also fine if you would prefer to do some of your own research beforehand. To make that process easier, we've answered some common questions about cosmetic dentistry in Naples below.
Which cosmetic dentistry treatment is right for me?
With all of the services we offer to improve your smile and boost your confidence, it can be hard to tell which one you should choose. Finding out the answer starts with an initial consultation with Dr. Skupny. During this appointment, he'll sit down with you and ask you questions about the specific imperfections you'd like to fix and how you'd like your results to look. He'll also closely examine your mouth to get an idea of the state of your oral health. Based on his findings, he can make recommendations and help you make a well-informed decision as to the best way to transform your grin!
Will my dental insurance cover cosmetic dentistry?
Treatments that are primarily aesthetic in nature, such as teeth whitening and veneers, usually do not qualify for dental insurance coverage since they aren't deemed "medically necessary." However, some cosmetic dental services, like tooth-colored fillings and Invisalign, also benefit your oral health. In this case, dental insurance may partially cover the cost of cosmetic dentistry. You'll have to look over the details of your policy to know for sure; our team will be more than happy to help with this process.
How long does cosmetic dentistry take?
Depending on the specific services that are involved in your treatment, transforming your smile can take anywhere from a single appointment to a year or longer. While in-office teeth whitening, for example, can be completed in one day, Invisalign typically takes between 8 and 18 months. If you have a specific timeframe in mind for when you'd like to achieve results, let us know during your consultation and we can plan out your treatment accordingly.
Why should I choose professional teeth whitening over store-bought treatments?
If you walk into the oral care section of your local pharmacy or even grocery store, chances are you can find several over-the-counter teeth whiteners. As cheap and convenient as these products seem, the results they deliver are lackluster at best. That's because federal regulations limit the concentration of the bleaching agents they can contain. Professional teeth whitening from a cosmetic dentist is not subject to these limitations. Therefore, our teeth whitening solutions are able to brighten your smile much more dramatically.
Additionally, store-bought teeth whitening kits are often designed to be one-size-fits-all. As a result, there's a chance that some of the bleaching gel will irritate your gums or cause tooth sensitivity. Our teeth whitening treatment, on the other hand, can be customized to fit your unique dental structure, preventing sensitivity and irritation.
Is Cosmetic Dentistry Expensive?
Many people associate cosmetic dentistry with expensive treatments, but that doesn't necessarily have to be the case. Its pricy reputation likely stems from the fact that dental insurance rarely covers cosmetic treatments, so they typically need to be paid for out of pocket. Improving your smile may seem costly at first, but you have to consider the investment you're making in your self-esteem, confidence, and quality of life.
Is Cosmetic Dentistry Safe?
As long as you're under the care of a trained professional, most cosmetic dentistry treatments are perfectly safe for most patients. Of course, not every treatment is right for every patient, so Dr. Skupny will examine your smile ahead of time so he can give you an honest assessment of which procedures may or may not be right for you. Some cosmetic dental services can pose a risk if you have an underlying oral health issue that isn't already treated. However, your dentist will plan to address issues before starting a procedure.
How Do I Know If I Need Cosmetic Dentistry?
If you aren't completely confident in the smile you see in the mirror, you could most likely benefit from cosmetic dentistry. Stained or discolored teeth can't always be fixed with over-the-counter whitening products, but professional teeth whitening can provide results. Chipped or cracked teeth can be covered with veneers or crowns. If you want to look younger, cosmetic dentistry can help with this too! The best way to find out if cosmetic dentistry is right for you is by scheduling a consultation.
Does Cosmetic Dentistry Hurt?
Some patients are hesitant to commit to treatment because they are worried that it will be painful. That's why we take every step to help you feel as comfortable as possible while in the dental chair. Most cosmetic treatments are noninvasive, like teeth whitening and bonding. For treatments like veneers, where your tooth must be reshaped, your mouth will be numbed with a local anesthetic. You may experience some soreness for a few days after certain treatments, but this should be mild and temporary.