Dental Implants – Naples, FL
State-of-the-Art Tooth Replacements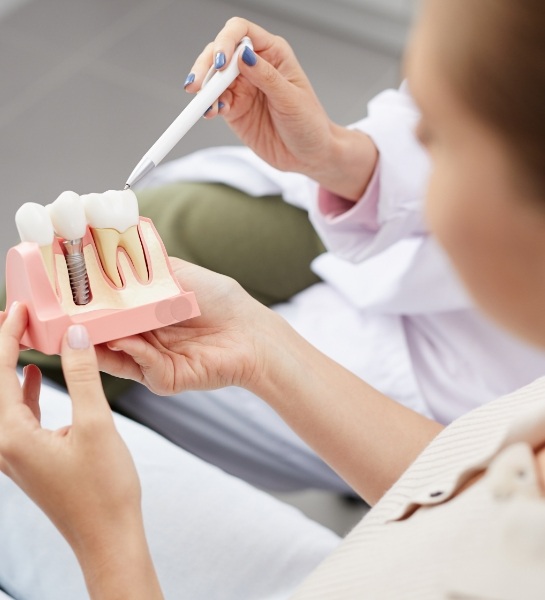 Whether you're dealing with a single missing tooth, multiple missing teeth, or even an uncomfortable denture, dental implants can help you reclaim your complete smile for a lifetime. Working with a team of local specialists, Dr. Skupny and the staff at Island Coast Dentistry are able to provide what is widely considered the most natural-looking and longest-lasting tooth replacement available today. It you're ready to eat, speak, and smile with confidence again, give us a call today to schedule your consultation for dental implants in Naples.
What is a Dental Implant?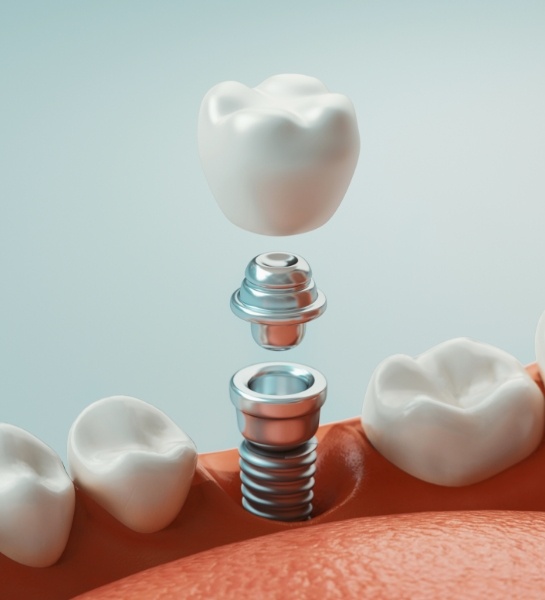 Dental implants are truly special because they actually restore an entire tooth, including both the visible crown and hidden root. They are the only treatment that does this, and the result is the next best thing to nature. A titanium prosthetic root is placed directly into the jawbone, and this can be used to support a variety of dental restorations. They can replace a single tooth, multiple teeth, or even support a denture with a fit and bite much better than a traditional removable prosthetic.
Learn More
Are You a Candidate for Dental Implants?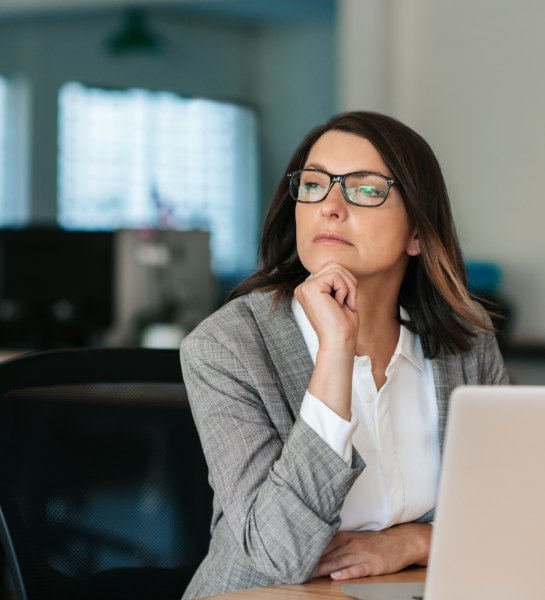 A person interested in getting dental implants needs at least three basic things: good dental health, stable overall health, and a strong and thick jawbone. The new roots need an adequate amount of jawbone in order to stay in place, and any existing dental problems (such as gum disease) could potentially affect their placement. Also, overall health conditions, such as uncontrolled diabetes or heart disease, could impact the implant procedure as well. If any of these requirements are an issue, your dentist in Naples, Dr. Skupny, can work with a patient to help them become a viable candidate for the treatment.
Learn More about Dental Implant Qualifications
What are the Benefits of Dental Implants?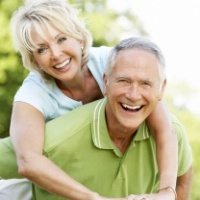 Replacing both the root and crown of the tooth allows you to enjoy a variety of benefits that are not achievable using traditional prosthetics, including:
Over a 95% success rate for a reliable solution.
Smile confidently with a natural appearance using all-ceramic materials.
Regain as much as 70% of your biting for a solution that feels natural.
Preserve the density of your jawbone and support your facial structures.
Reduce your risk of tooth decay, gum disease, and additional tooth loss.
Enjoy a cost-effective treatment that can last for decades.
What are the Indications for Dental implants?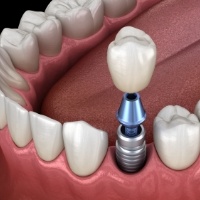 Dental implants can be used to treat all severities of tooth loss if you're a candidate. Depending on how many teeth you're missing, your treatment process varies.
Single Missing Tooth
An implant post is surgically placed into your jawbone to act as a new root. An abutment is connected to the post to attach a custom-made dental crown.
Learn More about Single Tooth Implant
Multiple Missing Teeth
Several missing teeth in a row are replaced with an implant-supported bridge. A row of prosthetic teeth is designed to match the appearance of your natural ones. It is anchored to your jawbone using an implant post on either end of the bridge.
Learn More about Multiple Missing Teeth
All Missing Teeth
You can secure your denture to your jawbone using an average of 4 implant posts. You will never need to worry about any slipping or irritation again.
Learn More about Implant-Retained Dentures
What Happens at the First Dental Implant Appointment?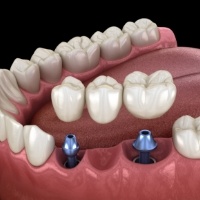 When a patient comes to see Dr. Skupny for dental implants, the first thing he will do is perform a thorough oral exam, as well as x-rays. With this information, he'll be able to determine if a person is a good candidate for the treatment. If they are, he'll go over their options and what their particular procedure will entail. At this point, the patient will have the chance to ask as many questions as they like before moving forward.
Learn More about your First Dental Implant Appointment
How Much Do Dental Implants Cost?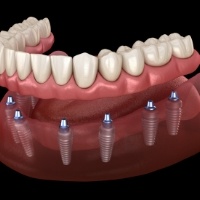 There is no easy answer to this question because the amount is determined by your individual treatment plan, such as the number of teeth being treated and your dental coverage. We help you maximize the value of your insurance policy to reduce the amount you need to pay. We accept a variety of payment options to cover any remaining balance to keep your new smile affordable. You will invest in your smile using a solution that can last for several decades, so you never need to worry about having it replaced.
Learn More About Cost of Dental Implants
Dental Implant FAQs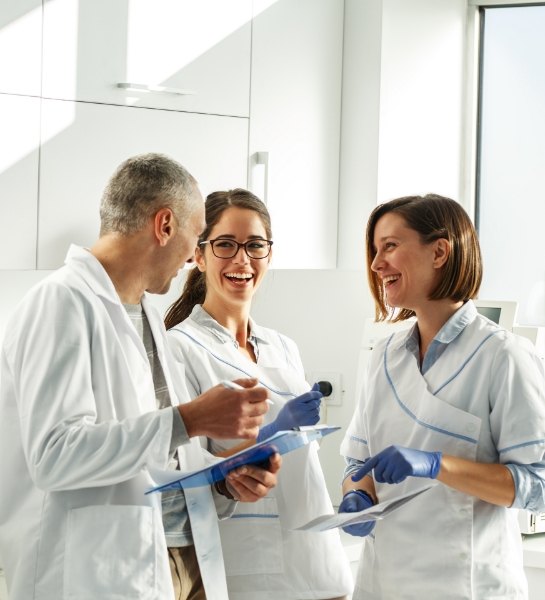 Am I a Good Candidate For Implants?
Dental implants usually work beautifully for most patients, but what's right for one person isn't always right for another. Given the wide range of oral health needs everyone faces, the best place to start is scheduling a consultation. With that said, here are some of the factors we'll be evaluating to determine if you're a good candidate:
General health – You need to be in good overall health to heal properly, so we may suggest an alternative replacement options for patients with certain immune conditions, unmanaged diabetes, etc.
Gum health – Implants need to be surrounded by healthy gum tissue. If you have gum disease, we may recommend gum therapy beforehand.
Jawbone density – Implants also need adequate jawbone for support. If your jaws are weakened after tooth loss, you may need a bone graft to strengthen them before implants can be placed.
Tobacco use – The implant success rate for non-smokers is over 97%, but that drops to 85% in smokers.
Are Implants Covered By Insurance?
Unfortunately, most insurance companies only cover the least expensive treatment (such as a bridge or denture), even if it's not in the patient's best interest.
However, every insurance plan is different, so start by looking at your individual benefits or give us a call and we'll be happy to look at your plan. Also, keep in mind that your insurance may partially cover services other than the implant itself such as exams, X-rays, etc.
Are Implants Safe?
Absolutely! Implants have a very safe, successful track record and have restored the smiles of millions of people over the last several decades. They're also made from the same material that's used in knee and hip replacements; bio-compatible, surgical-grade titanium.
Is Implant Surgery Painful?
This surprises many people, but getting implants isn't as painful as you'd think. In fact, it's similar to having a tooth pulled, so while you'll feel pressure, you'll be completely numb and won't feel any pain. Also, keep in mind that you'll have sedation options to relieve any stress and anxiety.
How Long Will It Take To Recover?
After your surgery, you'll have moderate swelling and tenderness in the area, which is usually easily managed with over-the-counter pain medication. The recovery process usually takes about a week in total, but most patients only need to take 2-3 days off work. As a dentist in Naples, we often recommend scheduling your procedure on a Thursday or Friday so you can recover over the weekend.