Full-Mouth Reconstruction – Naples, FL
What is Full-Mouth
Reconstruction?
Full-mouth reconstruction in Naples, FL is utilized to replace a complete set of missing teeth. The process starts with Dr. Skupny thoroughly examining your mouth and gums. Then, if any restorative work is needed, he'll address it, so you can have a healthy, strong, and lasting set of teeth. After capturing digital X-rays and impressions, we'll create a temporary set of dentures, then map-out the rest of the reconstruction process. With the use of strategically-placed dental implants that maximize the bone to implant ratio, you'll have a secure and lasting fixture for years to come!
Why Choose Island Coast Dentistry for Full-Mouth Reconstruction?
Stay in Direct Contact with the Dentist
Fully Personalized for Best Esthetics and Function
High Quality Dental Materials Designed to Last
How the Full-Mouth Reconstruction Process Works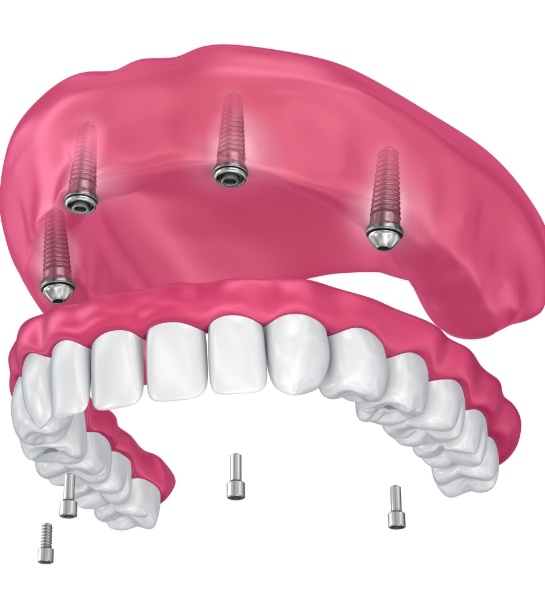 After your dentist in Naples designs your custom treatment plan, he'll forward the instructions to a trusted specialist who will perform the placement surgery. Following the initial procedure, you'll need three to six months to heal and for the implants to fuse with the underlying jawbone through a process called osseointegration. Once adequate fusion and healing have been achieved, titanium abutments are added that act as anchors for the final set of dentures to be attached. At this time, we'll capture another impression that will allow for the creation of the denture framework and prosthetic teeth. With the addition of either snaps or a metal bar, your brand-new appliances will be permanently placed to leave you with a fully functional and attractive smile.
The Benefits of Full-Mouth Reconstruction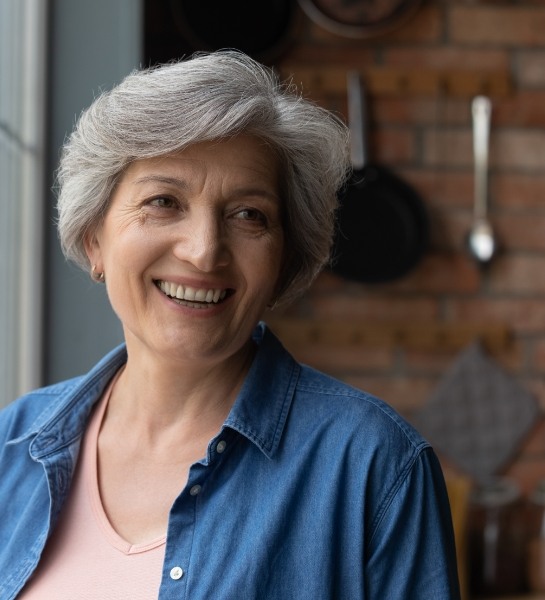 When it comes to tooth replacement, dental implant insertion stands in a category of its own. By committing to the future of your oral health and receiving a full-mouth reconstruction, here are the benefits you stand to gain:
Increased self-esteem
Prevention of jawbone loss
A more youthful appearance
Positive interactions with the people you meet
Up to 75% of your original chewing capacity restored
Prevention of jaw pain by having a properly-aligned set of teeth
With Dr. Skupny's expert help in planning the reconstruction process, all the guess work is eliminated, and you can feel secure in having a functional and gorgeous final restoration!
Want to Learn More?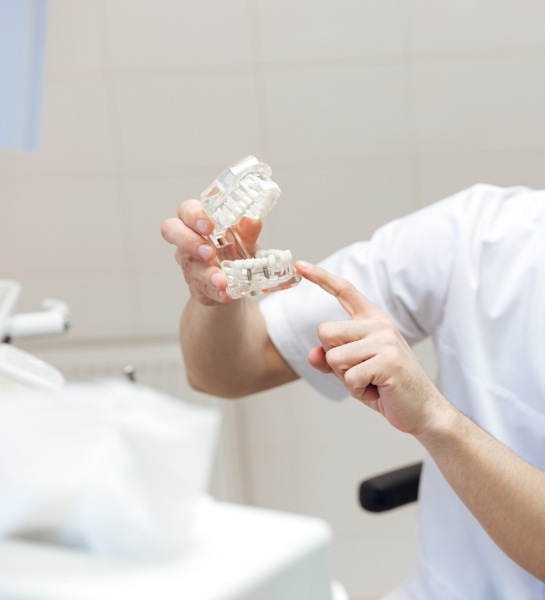 At Island Coast Dentistry, we understand that replacing a full set of teeth is a major undertaking. That's why when you visit, we'll take the time to further explain each aspect of the process so you can feel comfortable moving ahead with restoring your smile. To experience the benefits that await you, contact us today to schedule a consultation with Dr. Skupny!
Full-Mouth Reconstruction Frequently Asked Questions
It's natural to have many questions about full-mouth reconstruction in Naples. The process is usually quite long and requires much time and patience; however, the financial investment you're making will leave you feeling more confident and beautiful year after year. At Island Coast Dentistry, we want you to have all the information you need to feel 100% assured about your upcoming treatment plan, which is why you will see there are several questions and answers listed below. Asked by previous patients, we want you to review the following and contact us if you have any additional questions.
How Long Does a Full-Mouth Reconstruction Procedure Take?
Every full-mouth reconstruction is different, so timelines will vary. Your dentist will consider several factors when determining how long your procedure will take from start to finish. Some of these include how many teeth must be treated as well as which services are required to help you achieve your smile goals. We must also consider whether these procedures can be completed at the same time or if they must be done consecutively.
If you are looking to complete your full-mouth reconstruction for an upcoming special event, make sure to let us know during your initial consultation. This will allow us to keep this specific date in mind as we work to fabricate a personalized treatment plan.
Does Getting a Full-Mouth Reconstruction Hurt?
At Island Coast Dentistry, it is always our goal to ensure your safety and comfort as well as provide a stress-free experience. If you're worried about the procedure(s) hurting, you'll be pleased to learn that we will use local anesthesia to help numb areas of your mouth depending on the type of treatment you need (i.e., dental implants). If you have mild, moderate, or severe dental anxiety, we can also discuss the option of sedation dentistry to help keep you calm and relaxed during your appointment(s). You should know, however, that some minor soreness and discomfort are normal after your procedure. Fortunately, you'll receive an extensive list of aftercare instructions that can help minimize any pain and ensure a swift and successful recovery.
Will People Be Able to Tell That I Had a Full-Mouth Reconstruction?
Depending on the severity of your oral health problems, others may notice your full-mouth reconstruction. However, the materials and advanced technologies used today make restorations and prosthetics look and feel extremely lifelike. If you only require treatment for a few decayed and stained teeth, the potential for others to notice may not be as likely, but if you need veneers to completely transform your smile, it's possible others will notice your results.
When meeting with our dental team for your consultation, make sure to let us know how noticeable you want your new smile to be. This can help us dictate the types of treatments to include in your plan as well as how extreme your whitening, veneers, and other restorations should be.
How Do I Care for My Smile After Full-Mouth Reconstruction?
Because full-mouth reconstruction is a timely and costly investment, it's important that you take proper care of your new smile. This requires consistency and commitment. You'll be expected to implement an at-home oral hygiene routine to minimize your chances of decay and disease. This means brushing twice a day for two minutes, flossing daily, and rinsing with ADA-approved mouthwash. You'll also need to give up any unhealthy habits (i.e., smoking, chewing on pens and pencils, using your teeth as tools, biting your fingernails, eating ice). And, you'll be expected to keep your regularly scheduled six-month dental checkups and cleanings with your cosmetic dentist in Naples.