Dental Crowns & Bridges – Naples, FL
Replace One or Multiple
Missing Teeth
Dental crowns (or caps) are dental restorations that are placed over a tooth when conservative restorations are insufficient to restore their form and function.
A dental bridge serves to replace a missing tooth or teeth. One type of dental bridge consists of dental crowns placed on either side of the missing tooth to connect the replacement tooth or teeth to them. Another type of dental bridge consists of the replacement tooth attached to the adjacent teeth with wing-like appendages. Dental bridges can also be supported by dental implants.
Dental crowns and bridges from our Naples, FL dentist can be made entirely of a tooth-colored material, metal, or a combination to provide optimal aesthetics. Some metal-free dental crowns and bridges incorporate stress-bearing materials to enhance their strength and wear-resistance.
Why Choose Island Coast Dentistry for Dental Crowns & Bridges?
Partners with the Best Labs & Technicians
Customized Using Highly Lifelike Materials
Designed to Last and Feel Comfortable
Is A Dental Crown Right For Me?
A dental crown has many benefits. Dental crowns address aesthetic needs, restore tooth function, and enhance the overall health of your mouth.
In cases where teeth have large broken down fillings, a dental crown can protect and preserve the remaining natural tooth. To enhance your smile, metal-free, tooth-colored porcelain crowns can also replace older metal or metal with porcelain crowns.
Porcelain crowns have translucent qualities that, with the help of an expert cosmetic dentist like Dr. Jeffrey Skupny, can look just like natural teeth. Following root canal therapy, a dental crown is typically placed over the remaining tooth structure to preserve aesthetics and tooth function.
Learn More About Dental Crowns
Is a Dental Bridge Right For Me?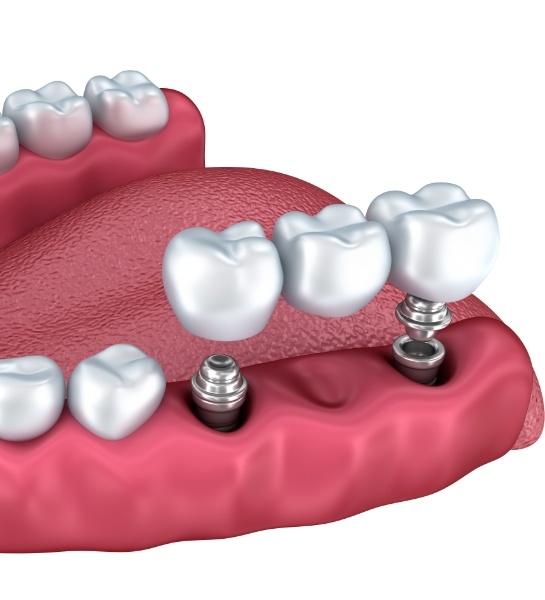 In cases where teeth are missing, a dental bridge prevents the remaining natural teeth from shifting so that a person's dental health and facial aesthetics are not compromised. Dental bridges can also provide a permanent, non-removable alternative to removable partial or full dentures. Whether supported by natural teeth or dental implants, dental bridges can offer life-like aesthetics and stable chewing surfaces. They can be easily maintained with modified brushing and flossing.
What Happens At The First Appointment?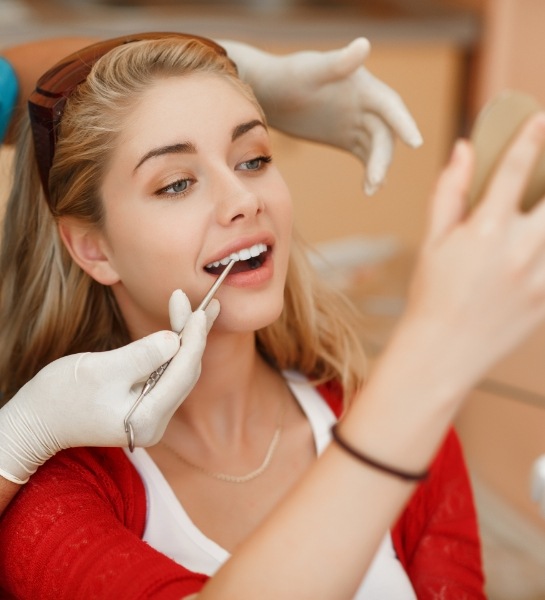 With both dental crowns and bridges, your Naples dentist needs to shape the teeth to provide a stable support and precise fit for the final restoration. Following tooth preparation, impressions are taken of the teeth, and a replica of your mouth is created for the dental laboratory to make the restoration. You and your dentist will carefully discuss the color, shape, and size of the dental crown(s) or dental bridge(s). A temporary restoration is secured to protect the prepared teeth and maintain the precise space left by the tooth until the new restoration is fabricated.
If an implant-supported dental crown or bridge is your best option, Dr. Skupny will evaluate your health and suitability for implant placement. He may also proceed with surgical planning or refer you to a specialist trained in implant surgery.
Improve Your Smile in South Florida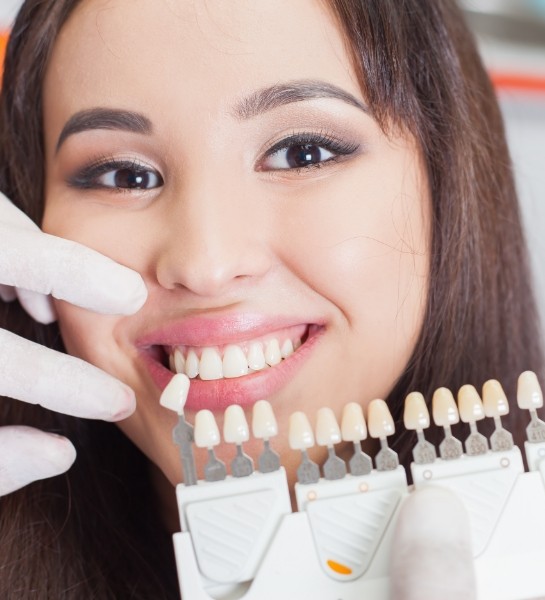 Naples, Florida dentist Dr. Jeffrey Skupny uses a variety of dental services and techniques to provide the very best results for all of his patients. His artistic abilities and experience with dentistry, along with his use of the finest materials and products, combine to create a healthy, natural-looking, and spectacular smile. Contact our Naples dental office in Collier County today to learn more about the dental options available to you.
Dental Crowns & Bridges Frequently Asked Questions
Repairing your damaged smile with a dental crown or bridge is a major decision. After all, preparing your teeth for these restorations involves permanently altering their structure. Therefore, you should be well-informed about the procedure before going through with it. To help you make a confident choice in your oral health, we've answered a few common questions about crowns and bridges below.
How Long Do Crowns and Bridges Last?
We use incredibly durable materials to create your crown or bridge. As a result, your restoration should easily be able to last for 10+ years. With the right aftercare, you might be able to extend its lifespan to 15 or even 20 years!
How Do I Take Care of Crowns and Bridges?
For the most part, caring for a dental crown or bridge is similar to what you would do for a natural tooth. Keep up with a daily routine of brushing and flossing, visit our dental office twice a year for dental checkups and cleanings, and wear a mouthguard to prevent damage from sports-related injuries or teeth grinding. You should also avoid smoking and foods that are particularly hard or sticky, as they could dislodge or break your restoration.
The main thing to keep in mind is that if you have a dental bridge, you have to clean out the space between your replacement tooth/teeth in the middle and your gums. We can recommend certain products that may help, such as floss threaders or water flossers.
Are Dental Crowns and Bridges Expensive?
The price of your crown or bridge will vary based on the specific details of your situation. However, it should be able to fit within your budget. Most dental insurance providers consider crowns and bridges to be major restorative treatments, and will cover somewhere between 50% and 80% of the cost. Each plan is different, though, and our team can help you navigate the details of your coverage. We also offer low-interest financing through CareCredit in addition to flexible in-house payment plans.
Even if your crown or bridge seems expensive now, getting one as soon as possible can actually save you money in the long run. A crown can shield your tooth from damage that might otherwise warrant costly procedures like a root canal or extraction. A bridge will prevent your remaining teeth from shifting out of alignment, causing severe orthodontic issues. Overall, dental crowns and bridges are an investment worth making!
Does It Hurt to Get a Crown or Bridge?
Before receiving your crown or bridge, we'll need to remove a thin layer of enamel from the teeth that will be supporting your restoration. However, we will administer a local anesthetic to numb your mouth beforehand. Your teeth may be slightly sore for a day or two afterward, but the procedure shouldn't hurt.