Veneers – Naples, FL
Erase Dental Imperfections with Ease
Is there something about your smile you don't like? Maybe it's one misshapen or chipped tooth, or perhaps you have a few patches of stubborn enamel stains. Either way, if you feel self-conscious about the appearance of your teeth, your confidence can plummet. Fortunately, at Island Coast Dentistry, we can help you erase dental imperfections with ease thanks to veneers in Naples! Read on to learn more about this popular cosmetic service and give us a call today to schedule your consultation.
Why Choose Island Coast Dentistry For Veneers?
Fully Personalized with Size, Shape, and Color in Mind
Experienced Dentist with Strong Attention to Detail
Adjust Multiple Imperfections with a Single Treatment
What Are Dental Veneers?
Porcelain veneers are a thin, semi-translucent covering that is permanently bonded to your teeth. While they're not suitable for every patient, porcelain veneers are the most aesthetic alternative for a variety of dental conditions involving the front teeth.
Porcelain veneers can mask undesirable defects, such as teeth stained by tetracycline, ones with noticeable cracks, or those with obvious gaps, and they are ideal for masking discolored fillings in the front teeth. Dental veneers can be used to fix:
Diastemas (spaces between the teeth)
Broken or chipped teeth
Unsightly stained or washed-out fillings
Permanently stained or discolored teeth that can't be bleached
Crooked teeth
Dr. Jeffrey Skupny offers beautifully crafted and placed porcelain veneers to patients from the Collier County area and throughout Southwest Florida here at Island Coast Dentistry.
The Process of Getting Veneers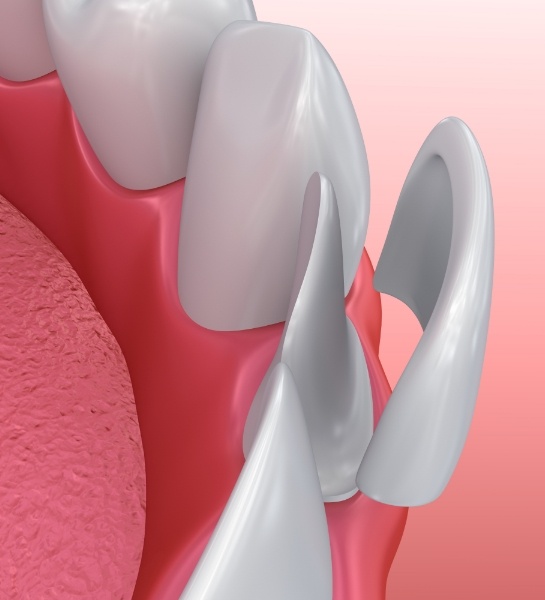 The process of getting veneers is relatively quick and easy. Instead of undergoing numerous appointments to correct different dental flaws, veneers have the potential to perfect your smile in just two appointments. During your consultation, we'll walk you through the entire process so you'll know exactly what to expect. In the meantime, read on for the general steps you can expect to take on your journey towards a new smile.
Consultation & Planning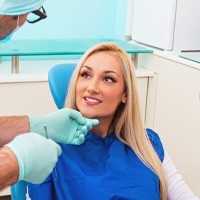 During your consultation, your cosmetic dentist in Naples will:
Make sure that your teeth are strong enough to support porcelain veneers. They should have an adequate amount of enamel, and your mouth should be free of any major oral health problems.
Answer your questions about the treatment. Write out a list of questions beforehand so you don't forget to ask anything.
Plan your cosmetic treatment. You and your dentist will decide together how many veneers you need and which teeth will receive the veneers.
During your planning appointment, Dr. Skupny might also suggest that you get your teeth whitened prior to receiving veneers. The veneers will be color-matched to the teeth around them, and they won't respond to whitening treatments if you decide later on that you would like a brighter smile.
Tooth Preparation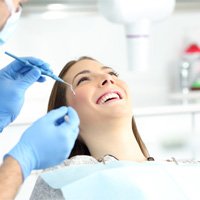 Following your consultation and any other preliminary appointments, placing your veneers will require two visits to our dental office. During the first appointment, Dr. Skupny will prepare the teeth by removing a sliver of enamel from them. This is necessary to make sure that the veneers do not make your smile look bulky or unnatural.
Once your teeth are prepared, we'll take detailed impressions and images of your teeth, which Dr. Skupny will use to design your new look. A dental laboratory then uses that data to create your permanent veneers. In the meantime, you'll wear a set of temporary veneers to protect your smile.
Porcelain Veneer Placement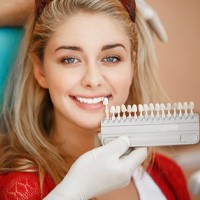 When you return to our dental office for your next appointment, Dr. Skupny will check to make sure that your veneers are exactly what is needed to produce the results you want. He might have to make minor adjustments to them so your smile truly looks its best. When he is sure that the veneers are perfect, your teeth will be cleaned, polished, and etched to ensure that the bond between them and the veneers will be as strong as possible.
Then, Dr. Skupny will use dental cement to apply the veneers to the teeth. Once they're properly positioned, a special light hardens the cement. Finally, the dentist will trim off any extra cement and check your bite to make sure it is comfortable.
Some patients experience a little gum tenderness or jaw soreness after the veneer process, especially if more than just 2 – 4 veneers were placed. Such symptoms should go away within a few days so you can start to fully enjoy your new look.
Are you ready to schedule your cosmetic consultation with Dr. Skupny? Contact our dental office today to begin your journey to a more attractive, more confident smile.
Benefits of Veneers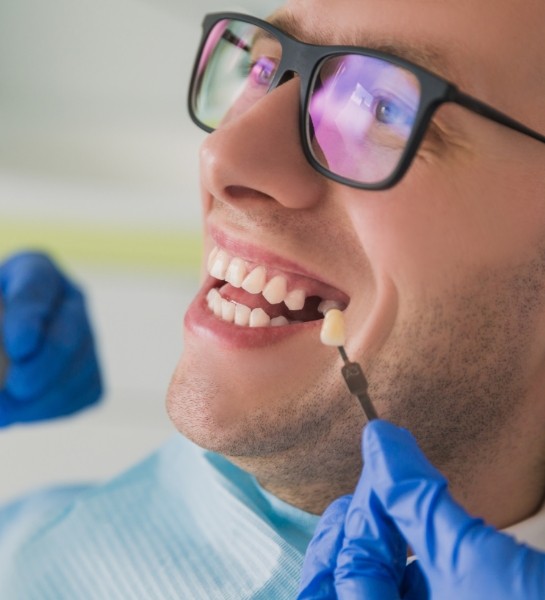 There are many benefits and advantages to having porcelain veneers placed on your front teeth:
The procedure for placing cosmetic veneers takes only two appointments.
Porcelain veneers are the most biocompatible material you can use next to the gingiva (part of the gum tissue that immediately surrounds the teeth).
Porcelain veneers are the most aesthetic restoration in all of dentistry.
Understanding the Cost of Veneers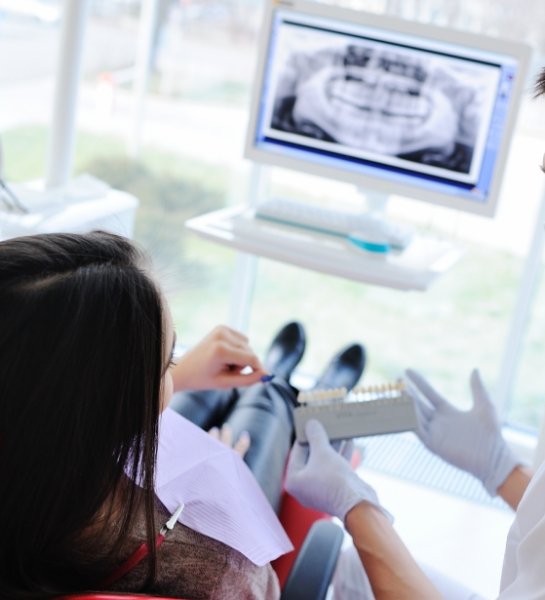 Naturally, many patients looking into this smile-enhancing treatment have an important question on their mind, "How much does it cost?" While the answer to that question will depend largely on your unique treatment plan, there are a few important factors that play a role across the board. Keep reading to learn more!
A Cost Analysis: Veneers vs. Other Popular Dental Treatments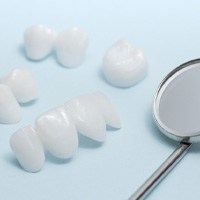 While veneers have been (and continue to be) extremely popular, they aren't the only smile-enhancing solution available. When determining if the cost of veneers in Naples works for you, it's important to consider how it stacks up to other popular treatments. With this in mind, here is a quick analysis:
Braces – From slight gaps to severely rotated teeth, there is no orthodontic concern that braces can't address. It is important to note, however, that braces will not correct other dental flaws, like discoloration or chips.
Teeth Whitening – If stubborn stains are the source of your problems, then a professional teeth whitening treatment is certainly the way to go. However, permanent discoloration and other concerns, like misalignment, require veneers to address effectively and simultaneously.
Direct Bonding – Like veneers, direct bonding can correct minor spacing issues, pigmented stains, chips, and other imperfections with just one treatment. The only drawback is the longevity since the results typically only last for a few years at a time.
Veneers – When comparing cosmetic dental treatments, veneers may seem like the most expensive option. While that can certainly be true when considering the upfront cost, it's important to remember that you're paying for longevity, customization, and a smile that you're truly proud of.
How to Make Veneers Affordable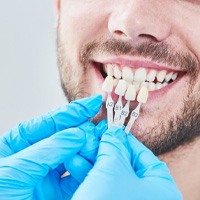 While we do welcome dental insurance benefits, veneers are rarely covered since they aren't considered "medically necessary." Fortunately, there is another solution: flexible financing. This third-party financier allows qualified patients to take advantage of low-to-no interest payment plans that space-out the cost of larger treatments over the course of several months. As a result, you won't have to pay the lump sum upfront. Of course, our cosmetic dentist in Naples and the rest of our team would be more than happy to share more about this option during your initial consultation and even answer any questions you have before applying.
How to Take Care of Veneers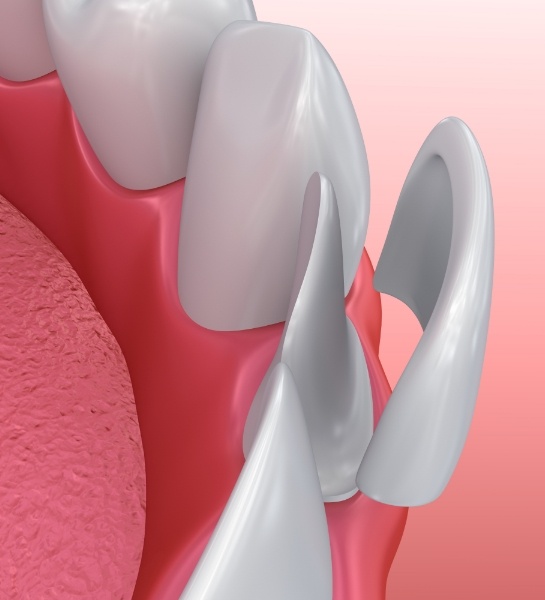 Dental veneers can last indefinitely depending on how well you take care of them. Because porcelain veneers are stronger than simple bonding, they are also more resistant to stains and chipping. Even so, you must maintain regular oral hygiene at home and visit us for routine cleanings and exams. This is to ensure that your new cosmetic veneers will look as good as new.
Another important point is that oral habits that damage natural teeth, such as nail biting, opening bobby pins, and chewing on hard objects, can also damage your new dental veneers. Once porcelain veneers are applied, just treat them like natural teeth!
Porcelain Veneers FAQs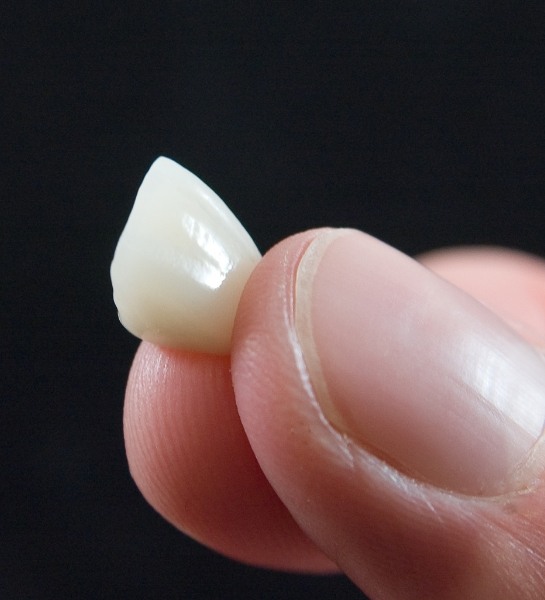 Choosing porcelain veneers in Naples to transform your smile is a big commitment. It is normal to have several questions about the treatment. Dr. Skupny wants you to feel confident in your decision to improve your teeth. He takes the time during your initial consultation to explain the process to give you the peace of mind you need to make the right choice for your smile. In the meantime, here are the answers to a few of the most common questions about veneers to learn more about your options.
Do I Need Veneers on All My Teeth?
You do not need veneers on all your teeth. Instead, most people choose to get 4 to 8 to only improve the teeth that are visible when smiling. If you only have 1 or 2 teeth that are imperfect, that is ok too. Dr. Skupny evaluates your smile and discusses the results you want to achieve to determine how many veneers you will need.
How Long Do Veneers Last?
Although veneers are made from a thin porcelain material, they are durable. They can last for an average of 10 years before needing to be replaced. There are several things you can do to promote how long they last, such as:
Use a soft-bristled toothbrush and nonabrasive toothpaste to clean your teeth twice a day.
Use a high-quality dental floss to clean between your teeth daily.
Use an athletic mouthguard if you play sports.
Do not use your teeth as tools, such as to open packages.
Do not chew on inedible objects, like your fingernails or pencils.
Do not bite or chew overly hard or sticky foods with the veneers.
Visit your dentist at least twice a year for a cleaning and checkup.
How Much Do Veneers Cost?
There is no set amount you can expect to pay for your new smile because the cost is determined by your individual treatment plan, such as the number of veneers needed. We help you maximize any savings opportunities to ensure your new smile stays within your budget, like using your dental coverage. Although it is rare for an insurer to cover a portion of their cost, there are certain situations where veneers may be included in your policy.
If you cannot use your insurance, we accept a variety of payment options to keep your new smile affordable, such as third-party financing with CareCredit. Based on your credit's approval, you are given the funds you need to pay for your treatment. You then repay the balance using a payment plan that accommodates your budget.
What Happens If I Break a Veneer?
Although veneers are durable, they can break or fall off. If a veneer is damaged, your cosmetic dentist in Naples, Dr. Skupny, can replace it to restore your beautiful smile.
Is It Painful to Get Veneers?
You should know that your mouth will normally be numbed as you're being seated to receive veneers, so you don't need to worry about any severe pain! That said, it's not uncommon to experience some mild and fleeting discomfort after your veneers have been placed, especially if you've received multiple. Some patients also experience what's referred to as "bonding sensitivity" when biting into something hot or cold; however, this is temporary and can be managed with over-the-counter pain relievers, cold compresses, and saltwater rinses.
Do Veneers Feel Like Real Teeth?
Thanks to advancements in dental technology and the techniques used to place veneers, they feel completely natural inside the mouth! Many patients report that they don't even notice a difference when they're talking or eating. This is because veneers are carefully crafted using precise impressions taken of your mouth, and the veneers themselves are made of smooth materials that won't irritate your soft gum tissues or other oral structures.
Is There Anything I Can't Eat with Veneers?
Before you get your permanent veneers, you'll receive temporary ones to wear; these serve as a "test drive" and protect your prepared teeth, but they also come with some dietary restrictions. You should be mindful of particularly hard, crunchy, or sticky foods that might potentially damage or dislodge them. Once your permanent veneers are bonded in place, you'll be able to enjoy most foods again but it's still sensible to show caution with harder items. You should also be mindful of alcohol, as it can weaken the bonding materials holding your veneers in place.
Will I Still Be Able to Drink Coffee with Veneers?
Veneers are generally made from dental porcelain, which is a non-porous material—making it very stain-resistant! This means that the particles from dark-colored foods and beverages have a harder time slipping underneath their surface and staining your teeth. This means that you're welcome to drink coffee without worrying too much about staining your veneers; however, it's still wise to show some caution, as excessive consumption might still have a negative impact. A good rule of thumb is to enjoy dark-colored beverages in moderation if you want your veneers to remain as white as possible for as long as possible!