Dental Crowns – Naples, FL
Repairing Broken
or Decayed Teeth
Whether it's from a cavity or physical trauma, a damaged tooth can be dangerous. Leave it alone for too long, and it could lead to an infection; not only will the toothache be very painful, but the bacteria could spread to other parts of your body and cause multiple health issues. To avoid this, Dr. Skupny can use dental crowns in Naples, FL to repair and protect broken teeth. When one of your pearly whites is damaged, make an appointment with Island Coast Dentistry right away!
Why Choose Island Coast Dentistry for Dental Crowns?
Experienced Dentist Dedicated to Your Needs
Partners with the Best Labs & Technicians
Modern, Comfortable, Relaxing Dental Office
How are Dental Crowns Made?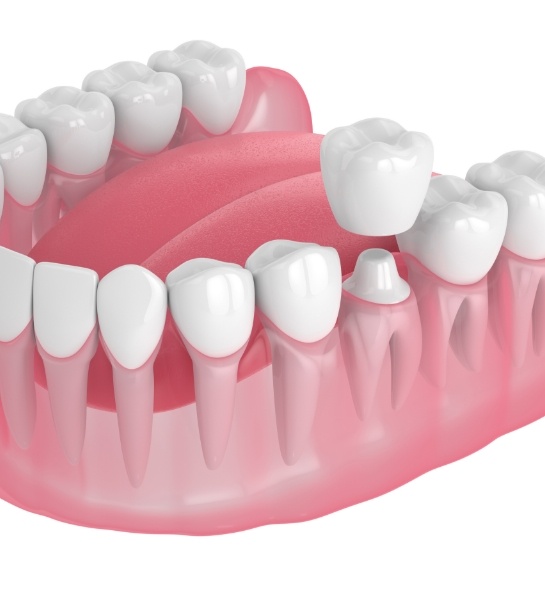 Impressions are taken of the affected tooth and sent to a dental lab where the crown will be designed over a matter of weeks. It can be made out of many different materials. Traditionally, alloys containing gold, platinum, silver or other metals are used, but while such restorations are durable, they can also be unsightly and stand out in the mouth. All-porcelain crowns are widely favored by dentists nowadays because they can be designed to match your natural teeth; in many cases, the casual observer wouldn't even be able to tell that a tooth needed to be repaired!
Benefits of Dental Crowns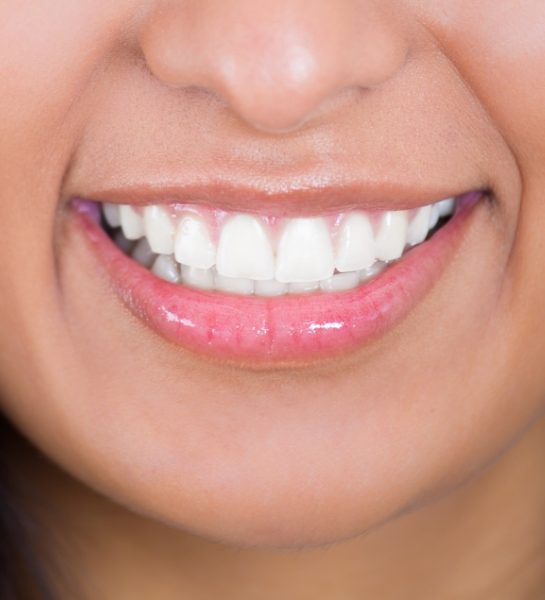 Versatile: Crowns have a wide variety of uses in dentistry. In addition to repairing broken and decayed teeth, they can also cover a dental implant or protect the tooth after a root canal procedure.
Restores Strength: A crown can hold a severely cracked or broken tooth together and protects it from the pressures of biting and chewing.
Long Lifespan: A crown can last for 5 to 15 years if you take good care of it.
High Success Rates: Compared to other restorations or a lack of treatment, dental crowns can reliably save your tooth.
What is the Procedure Like?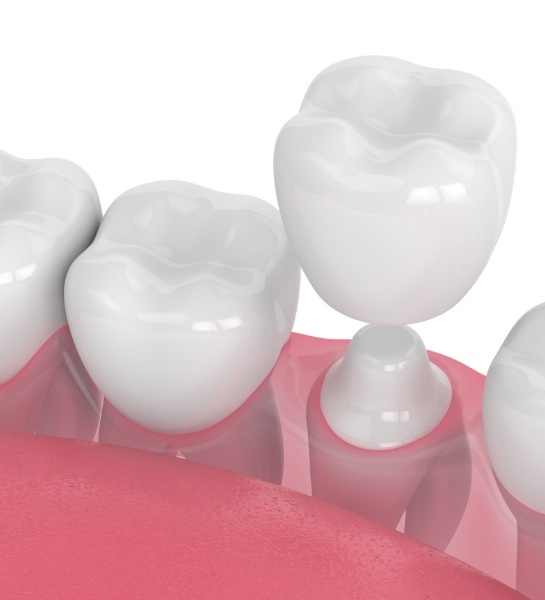 The first visit will be all about preparation. X-rays might be taken to check the roots of the tooth in question. A small amount of enamel is removed so that the crown can be placed; alternatively, a badly decayed tooth might actually need to be filled and "built up" first. Once the reshaping is complete, the impression for the lab is made.
After the crown is made, you'll return to your cosmetic dentist in Naples. The fit and color will be checked, and then your tooth will be numbed before the crown is permanently cemented in place. You may experience some discomfort and sensitivity for a few days, but this can usually be controlled with pain medication.
Understanding the Cost of Dental Crowns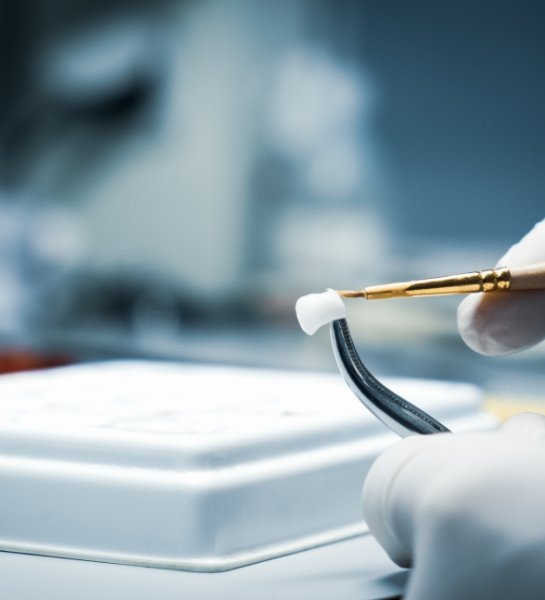 Of course, your first question is likely to be, "How much will I need to pay for my crown?" The answer will depend on your unique situation and dental needs. The number of crowns needed, the material used to create the restorations, and additional necessary procedures all need to be taken into account. Dr. Skupny will examine your oral health and give you a precise estimate. He can also discuss dental insurance and financing options so that you can form a plan. Take a few moments to review the following information to learn more about the cost of dental crowns in Naples.
Factors That Affect the Cost of Dental Crowns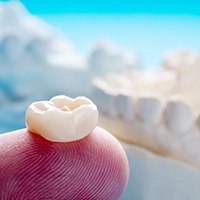 Meeting with your dentist to discuss the cost of your restorative treatment requires undergoing a thorough examination of your smile. At Island Coast Dentistry, our team will not only look at the severity of the decay or damage but also identify the type of material used to create your customized crown.
Our dental office uses all-porcelain crowns, which are highly durable and natural in appearance.
Once we've identified how we plan to create your crown (dental laboratory), we'll also determine if you need any preliminary treatments that might include root canal therapy or dental implant placement.
Does Dental Insurance Cover Dental Crowns?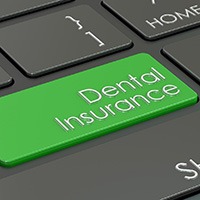 Yes, in most cases, dental insurance companies will agree to cover 50-80% of the total cost depending on how they categorize this type of restorative care (major or minor). You will want to check your individual plan, though, as not all companies offer the same type of benefits or coverage, so it's best to know beforehand.
If you need assistance to determine how much your insurance company will pay, especially once you have reached your deductible, our team of friendly staff will be able to help.
Other Options for Making Dental Crowns Affordable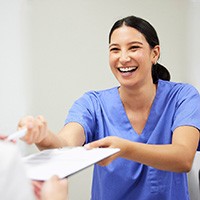 If private dental insurance is not something that you have invested in, you have the option to still receive a customized dental crown; however, you may want to inquire about flexible financing through CareCredit. This program offers low-interest or no-interest plans that make it easy to stay within your budget, pay off your treatment over time, and avoid surprise fees.
Dental Crown Frequently Asked Questions
The process of receiving a dental crown consists of several appointments and a permanent alteration to your tooth. Because of this, you should be absolutely sure that you want a crown before going through with the procedure. You'll likely have a few questions, and Dr. Skupny is more than happy to help! Here are the answers to a few of the questions our patients ask us most often.
What's the Difference Between a Temporary Crown and a Permanent Crown?
A temporary crown is placed over your tooth to protect it while your permanent crown is being crafted in a dental lab. Because this process can take a few weeks, it's important that your underlying tooth be shielded from any potential damage. Temporaries are usually made from stainless steel or acrylic materials. As such, they're not nearly as durable as your final crown. While you're wearing your temporary, try not to chew directly with that tooth, especially hard or sticky foods that could break or dislodge it.
Do Dental Crowns Require Any Special Care?
Caring for your dental crown doesn't involve anything you shouldn't already be doing to take care of the rest of your smile. To ensure your crown lasts as long as possible, you should do the following:
Be diligent about an at-home oral hygiene routine that includes daily flossing and twice-a-day brushing.
Don't bite down on extremely hard foods, as that can chip the porcelain. Similarly, chewing sticky foods could loosen the crown.
If you play sports or habitually grind your teeth at night, wear the proper protection (a mouthguard or nightguard).
See us at least twice a year for a dental checkup and cleaning.
Call us immediately if your crown feels loose or damaged in any way.
Can You Still Get Cavities If You Have a Crown?
Even though a crown covers the entire visible section of your tooth, it doesn't prevent cavities. Food debris and bacteria can still get trapped underneath the crown and contribute to decay. This is why you still need to brush and flossed your crown just like you would any other tooth. Further, spend some time cleaning the gum line when you brush. If the gums become infected (a condition known as gum disease), you could end up losing that tooth entirely.
Will My Dental Insurance Cover the Cost of a Crown?
It depends on your reason for getting the crown. If it's solely for cosmetic reasons, your dental insurance is unlikely to pay for it. However, getting a crown to protect a damaged tooth is usually classified as a major restorative procedure. Most insurance plans will cover up to 50% of the cost. Of course, your level of coverage varies based on the type of plan you have. We'll gladly help you get the benefits you're entitled to, and we even work with CareCredit if you still need help financing your care.