Dentures – Naples, FL
Eat, Speak, & Laugh with Ease Again
For more than 120 million Americans, missing teeth are a daily obstacle they have to overcome, and many of them are able to do it with the help of a denture. At Island Coast Dentistry, Dr. Skupny and our team provide multiple kinds of dentures that are able to reverse any degree of tooth loss. Using a tried and true process involving the best labs and most advanced materials, we're able to help anyone who comes to see us reclaim their complete smile again.
What are Dentures?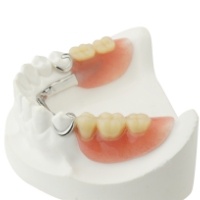 Dentures have been used for hundreds of years to replace teeth, but thankfully, they have improved over the years to be as functional and comfortable as ever. At Island Coast Dentistry, we offer various types of dentures to meet a wide-range of needs for our patients.
Partial Dentures
These are suited for patients who still have some remaining teeth. Using prosthetic teeth affixed to a gum-colored base, partial dentures fit seamlessly into your mouth like the missing piece of a puzzle to fill in the gaps. They are usually held in place using small metal clasps that attach to neighboring teeth. This replacement allows you to enjoy a completed smile while keeping your remaining teeth intact.
Full Dentures
This is probably the kind that most people imagine when they think of dentures. They're able to replace an entire row of missing teeth, and they simply sit right on top of the gums using natural suction/denture adhesive. Our dentures are made to be lightweight and comfortable for an enjoyable wearing experience.
Implant-Retained Dentures
These dentures look just like traditional ones, but the big difference is that they are held in place using multiple dental implants placed into the jawbone. As a result, patients will enjoy an extremely secure fit and a much stronger bite as well. Even better, the dentures will maintain their fit for a very long time because the implant posts will help keep the jawbone nice and full. Plus, a hidden benefit is that dental implants stimulate your jawbone to prevent it from deteriorating after tooth loss.
Understanding the Cost of Your Dentures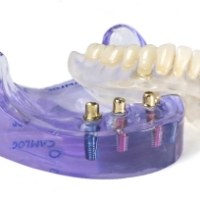 The cost of your dentures will vary based on numerous factors like the type of denture that you need and the condition of your oral health. Because there are so many variables, it's hard to give an estimate without examining your mouth first. The best way to receive a fair and precise estimate is to schedule a consultation with Dr. Jeffrey Skupny. He will carefully examine your mouth to determine what type of denture is best for you and then make a personalized treatment plan that includes price.
Come Get Your Smile Back!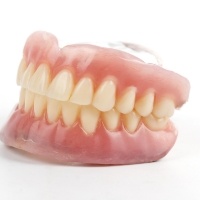 In the past, dentures were bulky, uncomfortable, and easily noticed. That is no longer the case today! Combining both art and science, Dr. Skupny can create a denture that perfectly mimics nature, enabling a patient to smile confidently and chew a wide variety of foods with ease.
To schedule a denture consultation today so you can start enjoying your smile again, give us a call.