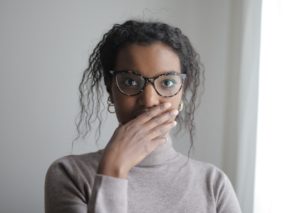 Do you have small white spots on your teeth? You're not alone. Although most cases don't harm dental health, the pesky blemishes can affect your self-esteem. Unfortunately, no amount of brushing or OTC whitening products will create color consistency because many factors can cause the imperfections. Don't worry, your cosmetic dentist has the solutions you need to resolve the flaws. Depending on the underlying cause, you have many options to enhance your smile. 
What Causes White Spots on Teeth?
Often, white spots on teeth result from the decalcification of the enamel. Also known as demineralization, they occur when calcium and phosphorus are removed from the structure of your teeth by bacteria that dissolve the tooth enamel. This can result in chalky white spots. While many factors can contribute to the issue, the most common causes include:
Bacteria Overgrowth
Your mouth is a hotspot for bacteria growth because it is dark and moist, which is why brushing twice per day and daily flossing are important. It only takes 12 to 24 hours for plaque to accumulate, which harbors harmful bacteria that can erode your enamel.
Fluorosis
Fluoride is known as "nature's cavity fighter" because it's proven to strengthen enamel to make it more resistant to decay. However, too much of a good thing can lead to fluorosis, a condition that occurs when a child is exposed to excess fluoride while the teeth are still forming.
Enamel Hypoplasia
Defects of the enamel can occur while the teeth are developing, which can affect the adult teeth. Enamel hypoplasia can appear as white spots, deep grooves, or other abnormalities with the outer layer of the teeth.
Braces
Poor oral hygiene habits while wearing braces can cause discoloration around the brackets. After the braces are removed, there can be white lines or squares where the brackets were placed, which is why good oral hygiene is important while undergoing orthodontic treatment.
Options to Treat White Spots on Teeth
Every mouth and situation differs, so there's not a single solution to resolve the issue. Instead, your dentist will examine your mouth to determine the cause to create a personalized treatment plan, which may include:
Enamel Microabrasion: A special dental instrument is used to mechanically improve the imperfections by removing the least amount of enamel possible.
Teeth Whitening: A professional-grade whitening agent is applied to the teeth to improve their color by up to 8 shades.
Porcelain Veneers: Thin restorations are applied to the front surfaces of the teeth visible when smiling to address white spots and other aesthetic concerns.
You can have a bright, beautiful smile you'll be proud to share with the world by investing in cosmetic dentistry.
About Dr. Jeffrey Skupny
Dr. Skupny achieved his dental degree from the University of Florida College of Dentistry and has regularly pursued continuing education in many advanced skill sets, like cosmetic dentistry. He is a member of the American Academy of Cosmetic Dentistry and many other professional organizations. If you're ready to improve your smile, request an appointment through our website or call (239) 572-9837.