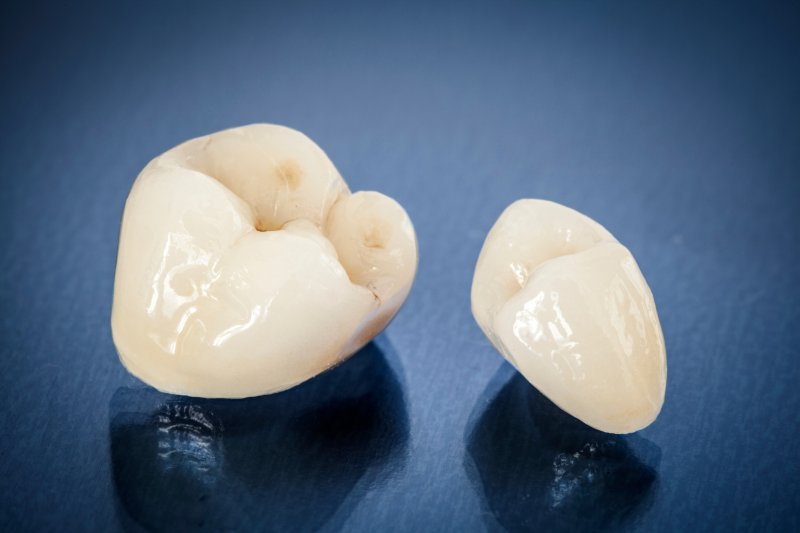 If you've had a dental crown for a while, it's likely served you well. After all, the dental cap both protects and beautifies your tooth! Still, remember that you'll eventually need to replace it. Even the best crowns break down with continued use. As for when to time the replacement, let your local Naples dentist help out a bit. To that end, here's a summary of four signs you should replace your dental crown.
Your Gumline is Receding
Following crown placement, you shouldn't see changes in the gums surrounding the treatment site. Over time, however, the gum tissue may pull away from the crowned tooth. Should that happen, you'll likely need a replacement crown.
For starters, gum recession may indicate that the crown wasn't well-placed. The condition, you see, normally stems from bacteria and plaque buildup. The crown may be leaving spaces exposed to harmful microbes.
At the same time, a receding gumline can be a sign of gum disease. The latter deserves immediate treatment, but a crown can interfere with that process.
Your Crown is Worn or Damaged
True, the porcelain used in today's crowns is very durable. That said, the material isn't invincible. If your crown looks worn down, you should seriously consider replacing it.
You see, crowns can break or chip due to everyday use. This outcome is especially likely for those who grind their teeth. By applying such excessive force, a crown can wear down until it no longer protects its tooth. At that point, bacteria could reach beneath the cap and cause long-term issues.
You Experience Aches or Swelling
To be clear, one of a crown's duties is to cover up a tooth's sensitive areas. It does so to ensure the pearly white avoids further decay. Given this fact, you may need a new crown if the underlying tooth (or its nearby gum tissue) is in pain.
Once you start noticing aches or swelling, the crown no longer works well. It may be too high on the tooth or expose vulnerable areas to germs. Either way, a new crown is the best way to solve the problem.
Your Crown is 10+ Years Old
Whether it's damaged or not, a crown loses effectiveness over time. So, you may want to consider replacement once it's ten years old or older.
Truthfully, many crowns start to fail from the ten-year mark onward. While some can last over 15 years with proper care, your cap's lifespan depends on various lifestyle factors. It's thus a good idea to monitor it once it's lasted over a decade.
Ultimately, there are ways to tell when to replace a dental crown. Therefore, see your dentist often – they can find the signs above before crown failure occurs.
About the Practice
Island Coast Dentistry is based in Naples, FL. Led by Dr. Jeffrey Skupny, our practice provides comfortable and personalized dentistry for all ages. To that end, we offer preventive, cosmetic, and restorative services tailored to each patient's unique smile. Our office thus provides everything from standard dental checkups to high-quality dental crowns! For more information or to book a visit, you can reach us on our website or by phone at (239)-261-5566.